Air Car- Green Car - True Eco Friendly Cars
.
Air car - that runs on air and will be available in India soon.
Car Picture: (Source & Courtesy: Rediff.com)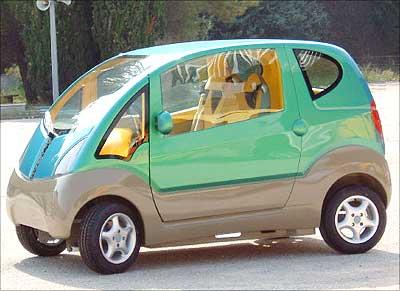 *** Rediff.com - more here >>>

Tata Motors has signed an agreement with Moteur Development International of France to develop a car that runs on compressed air, thus making it very economical to run and be almost totally pollution free.
Although there is no official word on when the car will be commercially manufactured for India, reports say that it will be sooner than later.
The car -- MiniCAT -- could cost around Rs 350,000 in India and would have a range of around 300 km between refuels. The cost of a refill would be about Rs 90.
Watch this Video
:
*
Wikipedia
*
A
Compressed air car
is an alternative fuel car that uses a motor powered by compressed air. This can also be combined (as in a hybrid electric vehicle) with
gasoline
/
diesel
/
ethanol
or electric plant and
regenerative braking
.
Air Car Website
:
http://www.theaircar.com/acf/
Some more research are going on...
>>
http://www.aircaraccess.com/
>>
http://zeropollutionmotors.us/
What are the other alternate cars can come... to replace fossil fuel. Search here...
-
Solar Car
-
Electric Car
-
Water Car
- H2O to HHO
- and many more...
Source
: Internet, Wikipedia, Rediff, www.TheAirCar.com,